Soap's Seal of Approval
About Soap's Seal of Approval:
Soap's seal of Approval is a way proposed modification to the current theme guidelines. to make sure that WPS's on the rockbox wiki sites conform to a set of strictly defined standards, and to identify the WPS's that do not conform. The seal uses a set of images called 'badges' that signify whether or not the WPS is Soap Approved, and whether or not it is for a 'Stock' Rockbox build (aka the current build) or a 'Modified' Rockbox build. If there is no badge beside a theme it is not Soap Approved.
GaryLight?'s proposed Seal image: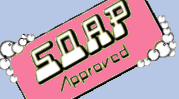 ZakkRoberts' proposed Seal image (transparent PNG; have original PSD and can still change font/colors/whatever if there are suggestions):

Requirements for all themes:
must be contained in a .zip archive
all files (.zip and accompanying images) must be attached to the wiki page
must have author's real name and contact info attached? (a text file in the .zip?)
must not contain broken code (i.e. proper RTC code etc.)
must include all required fonts, images, iconsets etc.
must include a license for the theme and graphics (GPL ? )
must have proper directory structure


      .rockbox
               backdrops
               fonts
               icons
               themes
               wps

must not include junk files

examples: thumbs.db , desktop.ini, .DS_Store, .directory etc.
must use proper filenaming
            backdrop: /.rockbox/backdrops/Mybackdrop.bmp
and NOT
            backdrop: /.rockbox/backdrops/mybackdrop.bmp
must set appropriate background and foreground colors
This means that the text would still be readable if somehow the backdrop was not loaded
ex. black background color for a white foreground (text)
must set a backdrop
if there is no backdrop specified it must be NULL in order to clear the backdrop ex:

     backdrop: NULL
The following three points should be included in the .cfg and .wps as comments and be included in the description on the wiki

must contain info on the author or version and date uploaded in the .wps and in the .cfg

must quote sources of graphics in some way, original, GPL'd, copyrighted or otherwise

must specify which type of Rockbox the WPS is for i.e.: current, patched, or custom build

Requirements of WPS's requiring patches:
must state which patches are required with appropriate FS#'s or URL's

must state which unsupported builds can/cannot be used with URL's

album art WPS's must have correct album art code

Examples of accepted format for info inside the .cfg and .wps
Standard build:

       #Theme Name: Killers 
       #By: Rockboxuser@somedomain.net (MrCoolNick on IRC)
       #Platform: iPod Video (320x240x16) - Standard build
       #Version: 0.1 beta
       #Licenced CC-BY-SA 3.0
       #Graphics taken from mymates.com
       #Last updated: Wed, 16th May 2007 17:22 CEST

Patched / Unsupported Build:
#Theme Name: Applebox #By: Steven Dean, modifications by Larry #Platform: iPod Video (320x240x16) - Unsupported #Patches Required: Album Art, Scrolling Margins 

#Recommended Builds: Senab, EvilG

 #Version: 1.0 #Licenced: CC-BY-SA 3.0 #Graphics taken from: apple itunes #Last updated: Wed, 19th May 2007 
Comments?
Questions? Comments? Ideas? post them in the forum:
Relevant Threads:
Fix the themes Contest : http://forums.rockbox.org/index.php?topic=10140.0
Organizing the wiki: http://forums.rockbox.org/index.php?topic=10214.0
-- GaryLight? - 01 May 2007
Copyright © by the contributing authors.