iPod Nano WPS Graveyard
These are themes which do not have a permissive license, and thus can not be modified by anyone other than the original author. When the replacement theme site is complete only themes with an approved license (CC-by-SA) will be allowed. If you are the original author of one of the themes found below you are free to clearly license your theme, ensure it meets the ThemeGuidelines, and then move it to the appropriate WpsGallery page.
---
Z-Nano


This is a mash up theme. It is a combination of attributes and design features from Neeon Black by Dmitry Borzenkov, and iPod Vision by Aaron Gonzalez so all the design cred goes to them. I just swapped things around and made a few tweaks of my own.

My personal tweaks include...
- Edit to color and design of images.
- Edit of the volume display code to show decibel view
- Addition of time to the WPS screen
- Use of scroll code for titles
- Use of conditionals to show file and folder names if ID tags are not present.

Download Z-Nano Theme

by Steven Zych
---
Neeon Nano Black


Nothing special here - just wanted my Nano be compledely black'n'sexy
Based on Leonid Frolov's iPod_nano source, so a bigup and a respect go to him!
Download Neeon Nano Black

by Dmitry Borzenkov
---
Jack
"Jack" is a flat black/white/red theme, named for the master of the b/w/r colour scheme. It comes in a number flavours: The Basic version opts for very little info to achieve an uncluttered interface, whereas the Info version crams about as much information as Rockbox can deliver. The Album Art version reserves space for a small (50 pixels by 50 pixels) album cover representation (requires a build containing the 'album art patch'). The version known as Jackinnabox is suspended until the required patches are in a more stable development phase.

Features
Functional, flat and stylish - just like the Nano
All info conditionalized (e.g. title is replaced by filename if there is no title in ID3 tag)
Volume is displayed by the wheel in upper left corner turning red - très ipod!
A high number of volume and battery levels for smooth animation
New icon series - all playing states covered (shuffle, repeat all, repeat shuffle, repeat one...)

Download

For feedback, support and questions regarding the themes, please use this forum thread
.
By Madsic


---
Windows Media Player Classic Nano

A very simple windows media player classic scheme. All controls work. Enjoy.
* Use the Atadore Font

---
Nano Cover Art
This theme is designed for an iPod nano sized screen. It's based around displaying the cover art.
The theme uses the maximum cover art size (currently 100x100) and tries to fit a few extra bits of information down the side as well. It uses the built in status bar at the top, to pack most of the useful info into a compact space. At the bottom you have the traditional Title/Artist/Album triplet, which alternates between the current track and the next track.
I've used the 6x9 font in the screenshots. You can also get away with nedore-9.fnt for better readability, but the song title bumps up against the cover art a bit.
* Download: NanoCoverArt-theme.zip
* Font: 6x9.fnt
* Resent Changes: Updated to current album art patch tag format

WPS code:

%X|Background.bmp|
%P|progress.bmp|100|100|
%we
%Cl|0|8|s100|s100|
%ar%pp of %pe   
%arin playlist 

%ar%?in<Album  |>
%ar%?in<Track %in |>
%ar%?iy<Year %iy |>

%ar%fc   
%ar%fb Kbps %?fv<avg|cbr>
%m|100|%ar%pc / %pr
%pb|8|100|176|
%s%t3%ac%?it<%it|%fn>;%?It<%t2%alnext:%s%ac%?It<%It|%Fn>|>
%s%t3%ac%?ia<%ia|%d2>;%?It<%t2%s%ac%?Ia<%Ia|%D2>|>
%s%t3%ac%?id<%id|%d1>;%?It<%t2%s%ac%?Id<%Id|%D1>|>
%C


---
Brushed Metal Nano
A nano-formatted version of Brushed Metal for the iPod 5G (thanks to MarcinPasierb for help). chicago12 font. Background included.
---
Rockamp Nano
Removed for copyright reasons. ChristiScarborough 20070517
---
Rockamp Nano-Blue
Removed for copyright reasons. ChristiScarborough 20070517
---
iPod_nano
This theme looks like as an original iPod nano theme.
by Leonid Frolov
---
iPod Vision Nano
This is the original iPod Vision 5G theme resized for the nano. No album art. Note: this is not my own design, credits go to original creator Aaron Gonzalez, who made this skin for the iPod 5G
by JuyuJohns
---
GreenAge V2
The heart at the top left corner spins according to the playing state. (ie. spin slow when playing, no animation when stopped, blinking when paused, spin fast when seeking forward, spin fast backwards when seeking backwards)
by MikeChow
---
iPod nano Tango
Well I got to thanks MikeChow for his permission to use his theme as a template. I used some JuyuJohns ideas to... so credits to him too. I made this because i wanted a Tango Project styled interface like my *nix desktop so i decided to make this one. Hope you like it.
---
Bliss Nano

This was made off of poke_me_not's JayChouV1 theme, with his permission. I changed the background and some text. Everthing is included in the zip. Enjoy!
By BrockNorman
---
tunes for nano
Removed for copyright reasons. ChristiScarborough 20070517
---
Chanel Nano
Removed for copyright reasons. -- JohannesVoggenthaler - 04 May 2008
---
boxesMod
This is an adaptation of the boxes wps, to include more info (time and date, battery time and percent, folder name) and make the background black.

by RichardOwens
---
Clear Dark
A simple WPS that shows many information and "easy to read"
Last changed : 04/07/2008 (progress bar tags updated)
by AntoineJour
---
Clear Abst
Removed for copyright reasons. -- JohannesVoggenthaler - 04 May 2008
---
Clear Abst2
Just a color invertion of the last one...
Last changed : 04/07/2008 (progress bar tags updated)
by AntoineJour
---
Clear Light
A lighter modification of the Clear Dark theme.
Last changed : 04/07/2008 (progress bar tags updated)
---
IPN-TWD-00
A high-contrast, ultra-simple theme derived from GreenAgeV2 and designed to match a TuffWrap case.
by IanGulliver
---
Black Glass for Nano
This is a nano-version of the black-glass-gui from Windows Media Player 11
Last changed : 03/03/2007 (file info tag order fixed)
---
Remixed Black Glass for Nano
Edited Version of the Black glass nano 1.00:
* Download: black_glass_nano_edited_by_fatrix.00.zip

By Fatrix

---
NanoClone
Clone of the original Nano interface with a few alterations:
* Download: NanoClone.zip

Packaged as full theme. Uses nimbus-12 font. Usually has a transparent Apple logo for menu background, not included in case of potential copyright issues.
By Steve Wells

---
NanoFSM


A simple FSM theme for the iPod Nano. Brushed Metal for the Nano was used as a template, with permission from the author.

Download NanoFSM Theme

by Patrick Walker
---
ipodVisiOSX-nano
Removed for copyright reasons. ChristiScarborough 20070517
---
ipodVisiOSX2-nano
Removed for copyright reasons. ChristiScarborough 20070517
---
Dark Geek


iPod Nano version of Dark Geek
A simple console based theme designed to display important information in a clean and clear way.
* Download: Dark_Geek.zip
* Edit #1 - Added sleep timer, and moved "Next Song" info to two lines.
* Edit #2 - Fixed a problem with the font if loading from a WPS that used custom fonts.
By Spader

---
Blue_Dream
This theme was created by Unique and posted on the Rockbox forums. It is an edit of the "Black Glass for Nano" theme, with a background from the "iPod jBlackGlass-5g" theme. The Julius build from here: http://www.senab.co.uk/rockbox/download.htm is required to correctly set the custom status bar height in the filebrowser. The required nimbus-12 font is included.
* Download: BlueDream.zip
Posted By BrockNorman

---
nOS Blue
This theme was created and posted by Icewind on the Rockbox forums. No special patched build is needed. This theme uses the neodore-8 font, which is not included but is available in the font pack on the download page.
* Download: nos-blue-nano.zip
Posted By BrockNorman

---
Bionica
This my first attempt to make RockBox skin. Check readme for some more notes about using it in Sim adn real device.
* Download: bionica-t00n.zip
By AlexeyTveritinov

---
Black Glass MGr
A modified version of Black Glass by MarkusGritsch.

---
HiPod Dark Nano

This theme was converted by myself from the iAudio X5 version. This is but one evolution of the original, created for iRiver platforms.
The playlist position counter alternates with the volume level. UPDATE: The battery meter problem was found and fixed by bjt (Brian). The corrected version has been uploaded. Much thanks to him! No patches are needed for this theme, and the required font is included.

Last Change : File info tag fixed 03/03/2007

By BrockNorman Last Changed By Douglas Valentine
* Download: HiPod_Dark_Nano.zip

---
Clix Nano
Removed for copyright reasons. -- JohannesVoggenthaler - 04 May 2008
---
Mixb Red Black

This theme was created by mixb on the rockbox forums. It will work on any unpatched build. The required 6X13 font is included, which is capable of displaying cyrillic characters. The volume meter was borrowed from madsic's Jack theme series. Thanks goes to him for the work on it. Any comments or questions can be directed to mixb in this forum thread.
Posted by BrockNorman Last changed : 04/07/2008 (progress bar tags updated)
*Download: Mixb Red Black.zip

---
Suzumiya Haruhi no Yuuutsu WPS

Haruhism strikes again. Requires both Scrolling Margins and Album Art patch. Album Art should be 75x75 in size. Frankenfont is included and supports Chinese/Japanese/Korean characters.
By Farpenoodle (YuShengTan)
Download

---
MaxVision nano
Accessibility theme.
This theme is designed to help visualy-impaired people to use rockbox. The goal is to maximise character size without removing too much (useful?) information. Colors have also been chosen to maximize contrast while keeping an hopefuly pleasant look.
Some ideas and bits have been shamelessly borrowed from the ipodvision theme. Thx to JuyuJohns!
*Download:maxVision-nano.zip

Posted by OlivierArsac

---
nClix Theme
Removed for copyright reasons. -- JohannesVoggenthaler - 04 May 2008
---
Xbox 360 Theme
Removed for copyright reasons. ChristiScarborough 20070517
---
Xbox 360 Dashboard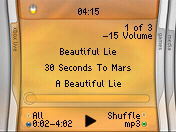 I realized after finishing this for the iPod 5g that someone had actually requested this for the Nano...Sooo...I ported it over. Anyway, here it is. Enjoy!
Xbox 360 Dashboard Nano Theme -- DanManners - 12 Jan 2007
---
TextBox by bascule
Given that some of the fantastic fonts that come with Rockbox are stuffed full of graphical glyphs, it seemed like a good idea to write a pseudo-graphical WPS using only text elements.
TextBox is the result. Using one of the standard Rockbox fonts (6x10.fnt), I designed the WPS to include as many box and icon-style characters as possible.
Because of the WPS format limitations, long tags will spill out of the right-hand side of the screen and the box border will not be visible.
This is a problem with graphical WPSs as well. This is also the reason that I have not included any scrolling tags, as this would currently ruin the left-hand side icons as well.
This will hopefully be fixed in the near future with the WPS partial scroll patch...

The top line has icons for shuffle and repeat status along with a battery indicator.
The play indicator has a single icon for all states and flashes when paused.
Below the progress bar is the playlist info Track # / Total # tracks plus the playlist name.
This is the .m3u/.m3u8 filename if you have started playlist playback from the playlist catalog or any other place in the file browser.
Volume is showing LN to indicate Line Out level (i.e., 0dB/100%)

This shows a Dynamic playlist generated by just starting playback from the File Browser or DataBase.
The fallback indications for non-existent tag metadata are also shown.

This shows the WPS when either fast-forwarding or rewinding,
when the genre tag is replaced by Track current time / Track total time to assist in cueing up within a track.
Download TextBox right here
---
PHK1 for Ipod Nano

PHK1 WPS Reformatted for Ipod Nano. Uses standard build and xtal-14.fnt Font file (standard font in the Fonts download). Original design and artwork by PHK Brasil for the Ipod Video. This is a complete theme file.
BonePHK1.zip: PHK1 WPS Reformatted for Ipod Nano
Posted by Bob Morris (Bone)
---
phkVH for iPod Nano

♪
This is a theme I did in tribute to the classic "Mighty Mighty" Van Halen from the early age.
The Volume section has a "chicken head" vintage knob, that drives a guitar amp stack with 8 speakers. As the volume is increased, the knob rotates and the speakers goes "lighting"
The battery level is measured by an analog VU meter
A vinyl record icon indicates Memory Access
A locker icon for the Hold
Player status icons (Play/Pause/FF/Rew)
Shuffle mode icon
Repeat modes icons
Volume displayed in dBs
Battery level displayed in percentage
Time display
Current track info: Name/Artist/Album
Next track info: Name and Artist alternatings
Track position on the playlist
Elapsed and remaining track time (Flashs when in Pause)
Track properties: Format/Kbs/Constant or Variable Bitrate
You can leave a feedback HERE
Hope you enjoy ♪
* Download: phkVH_nano.zip
-- PauloHenriqueKikunaga - 22 Jun 2007
---
AAPod Theme

Album art is important to me, so I made one for the Nano as big as possible! Its set at 100x100 which is easily viewable on the Nano screen. You MUST use my build to use it as it needs a larger image buffer than the default one used on most builds. For updates and more information, goto http://ipodfoo.blogspot.com
Posted by iPodFoo (Billy Blair)
---
AAPodSVN
This is pretty much the same theme as above except this version does not need any special patches or builds! I made it use helvB10 font (a bold version of the helvR10 font), so various other fonts can be used as well. It uses 100x100 album art (go here to find out how to extract album art from iTunes). In order for it to work with the default image buffer, I had to comment out various audio format indicators with a (#) in front of their line. If you use those audio formats and want them to show a proper audio format indicator instead of a (???) icon, uncomment them and comment out some others as the whole theme is too much to handle for the audio buffer. If you have noticed any bugs or have questions at all about this theme, you can pm me at the rockbox.org forums (crzyboyster).
Should work on any recent build 6/26/08.
-- crzyboyster on rockbox forums
---
Ubuntu Theme

This is the iPod 5g Ubuntu theme made by David Marsh ported to the Nano by Conna Naginiraha. No special patches or fonts are needed for this theme.
Posted by Brock Norman
---
BlackGlassMgrBis
An edited version of the BlackGlassMGr theme. changed font, backdrop and progress bar only. enjoy
Posted by spiorf (Federico Corradino)
---
Ultima v1.0
Released under: Creative Commons Attribution-Share Alike 3.0 License. http://creativecommons.org/licenses/by-sa/3.0/
by JamesDenman aka denny
-- JamesDenman - 06 May 2007
---
Komugi Theme
This theme is based off the Nurse Witch Komugi anime.
It requires scrolling margins and placeable progressbar patches. (the build for the nClix theme has those)
-- RandyThiemann - 21 Aug 2007
---
blueorange
Download: blueorange 1.1
Download: blueorange 1.1 psd source
This is my second theme. It provides albumart support for 75x75 pictures. It also includes the Tango 12x12x16 icons.
Update 14 Dec 2007: Version 1.1 -> More information displayed.
-- JohannesHolzhaeuer - 07 Dec 2007
---
crashbox for nano
Removed for copyright reasons. -- JohannesVoggenthaler - 04 May 2008
---
Super Mario theme for nano
Removed for copyright reasons. -- JohannesVoggenthaler - 04 May 2008
---
PHK1 Remix
This theme is a rework of the already existant theme PHK1 theme for the nano. I changed the font, icons, and both bgs (wps and menus). The font being used is a new one called "Pixo" and I used it because I thought it would fit the cool, sleek, black-grey look. The icons are the tango set. Edit/modify as you see fit. Enjoy!
Original design and artwork by PHK Brasil for the Ipod Video found here
-- crzyboyster on rockbox forums
---
slant
Removed for licensing reasons.
---
slant with Album Art
Removed for licensing reasons.
---
cabbie3
This is a port of the cabbie3 (no relation to Cabbie 2.0 here!) theme made by ZincAlloy from the ipod video version. It uses the helvR10 font and I had to align the text all the way to the top for now until viewports are committed because otherwise the theme looks "unbalanced". In order for a black menu background, you have to go to Settings > Theme Settings > Clear Backdrops. It looks exactly like the screenshots.
DOWNLOAD cabbie3 for nano theme
-- crzyboyster on rockbox forums
---
corners
This is my first theme that I made completely by myself. It uses a special font that I converted using the RockboxFontConvertor and is called "Pixo" (included) and the icon set used is the tango iconset (also included). Uses 55x55 album art and if no album art is found, the album art box will be displayed. I am waiting for viewports conditionals so that you won't have to see the box. You can get the psd files if you want them by pming me on the rockbox forums. Enjoy!
Should work fine with any recent build.
-- crzyboyster on rockbox forums
---
Aurora EN
Enjoy.
*Download

Aurora EN.zip: Updated to use new WPS syntax
by Alon Presser
---
Aurora HE
Similar to the "Aurora EN" but in Hebrew, for hebrew users. Enjoy.
by Alon Presser
Copyright © by the contributing authors.